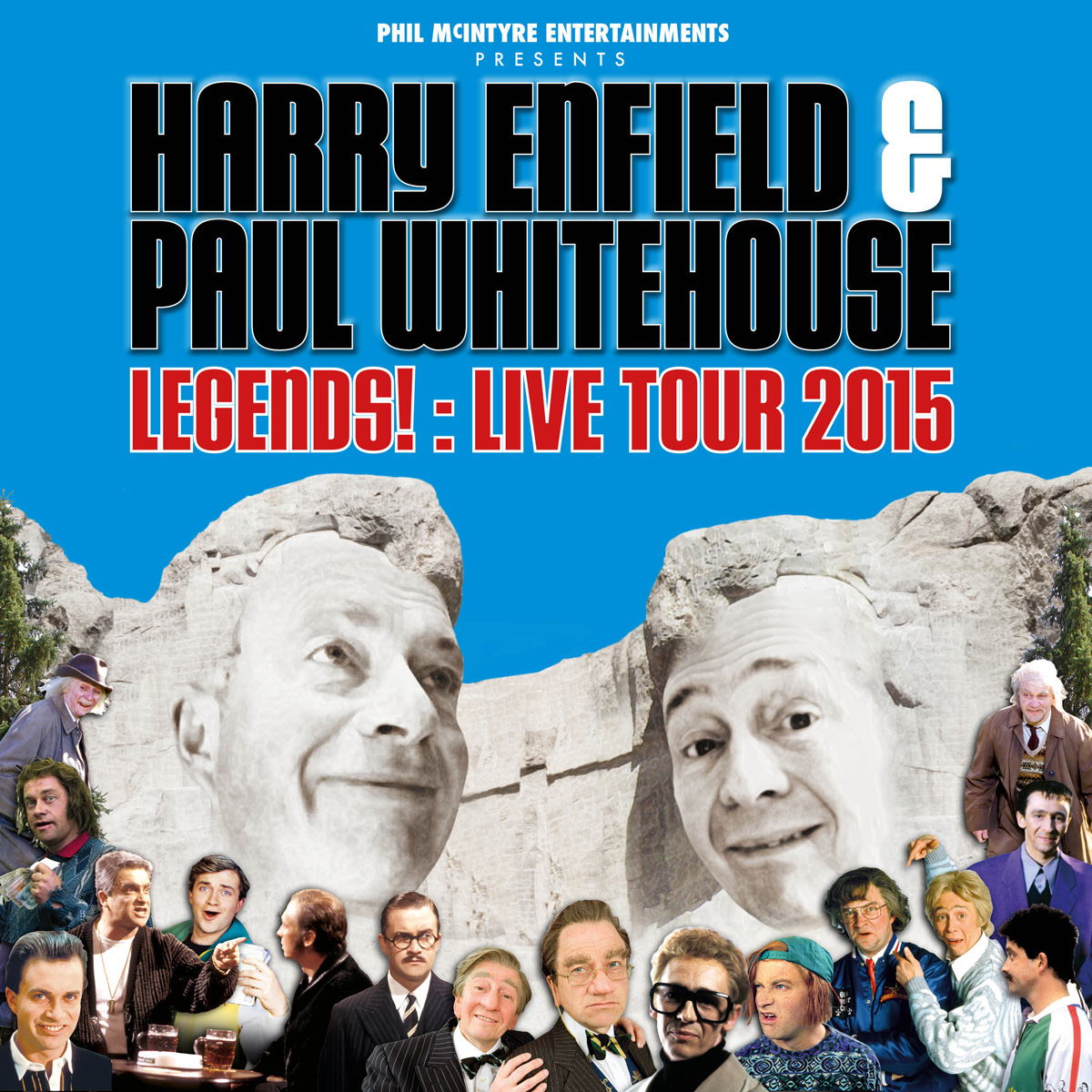 TOUR 2015
NEW THEATRE, OXFORD
THE TIMES: THEATRE REVIEW
Legends! Tour 2015 New Theatre, Oxford
★ ★ ★ ★
It feels appropriate, as Harry Enfield and Paul Whitehouse celebrate their 25-year comedy partnership with a live tour, that their publicity poster shows them as the chiselled faces on Mount Rushmore. These two have weathered the storm while sketch comedy has gone out of fashion. Their Old Gits, Smashie and Nicey, the Scousers and many more are the modern standards of the genre: joyous, broad and quotable.
There were two questions, then, as they took to the stage for their exuberantly titled Legends! tour. First: would this be more than a two-man medley of old catchphrases: "Loadsamoney!", "Only me!" ". . . very, very drunk at the time"? Second: could they make sketches feel contemporary rather than belonging largely to the past?
The answer to both, mainly, was yes. Over more than two hours there were a few cheesy puns and odd choices. However, the pair also slanted their mischief towards what matters now, dragging their characters into 2015 with topical references and canny stagecraft.
Enfield's Stavros, in his kebab shop, had to be bailed out by a German customer. A big screen showed the filthy contents of Kevin the Teenager's smartphone, while other sketches were beamed on to the stage from cameras in unusual places, including in an ice cream vendor's tray. As a football boss, Whitehouse flew fabulously through a multilingual address to his multilingual players. There were neatly judged references to the likes of Jeremy Corbyn, especially in a naughtier, faster second half. (Top Gear got a spiky drubbing, while posh Tim Nice-But-Dim seemed more real than ever as he daftly jabbered on about David Cameron and Boris Johnson.)
Of course, trying to serve a 25-year back catalogue made this a fairly rushed buffet. Some targets were easy (for example, the DJs Smashie and Nicey getting snared by Yewtree). Despite Enfield and Whitehouse's energy, some chums were missed: especially Kathy Burke as Waynetta Slob. Instead, a female cast member (Catherine Shepherd) flitted between parts including that of a female comedian who was warned by old-school Mr Cholmondley-Warner to "know her limits". What a shame so many people still seem to agree.
There's that thing again, though — that the characters have stayed relevant and have been assembled into a gloriously silly pantomime with feet in the past and the present. There's life in these Old Gits yet.
Link – thetimes.co.uk