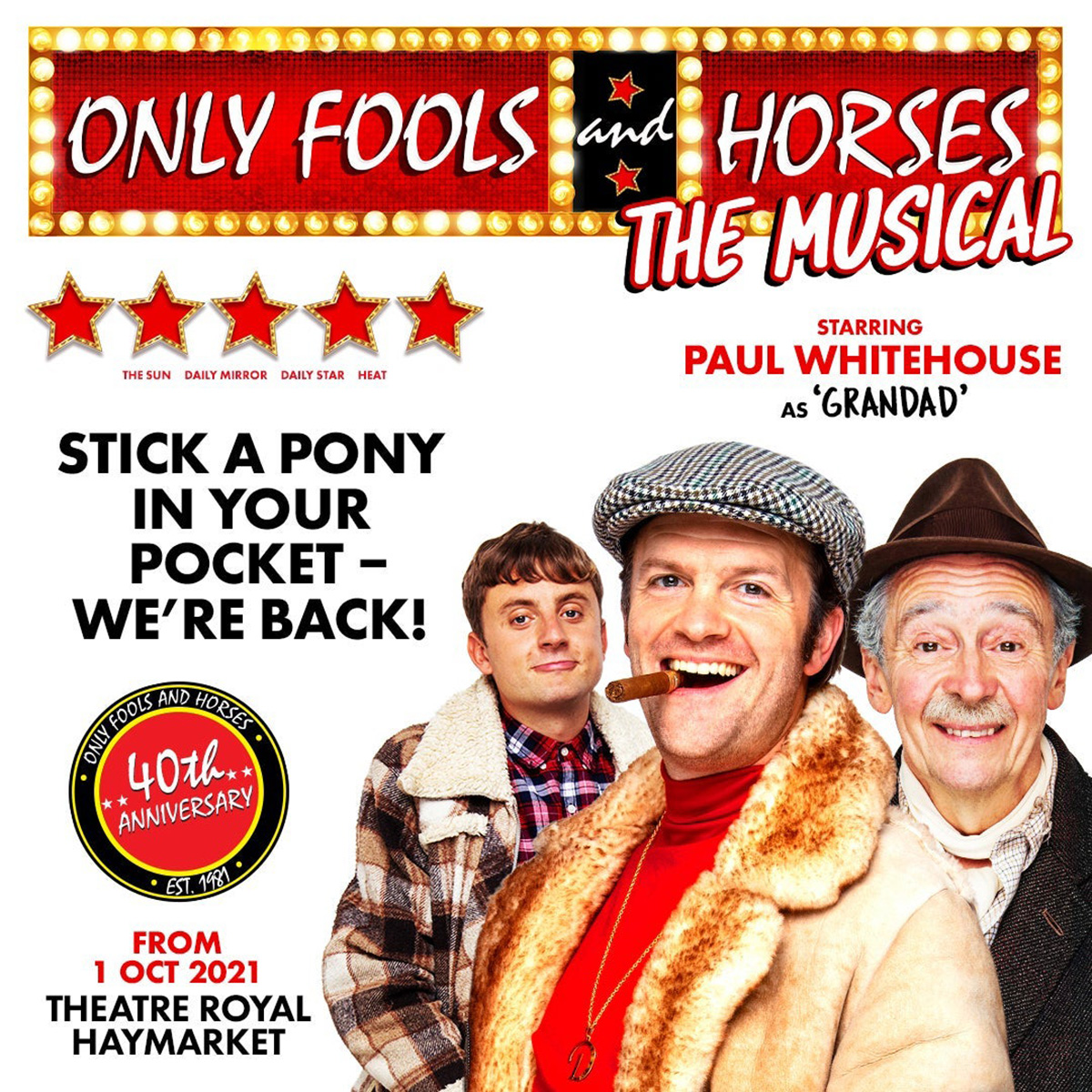 BROADWAY WORLD: THEATRE REVIEW
ONLY FOOLS AND HORSES - THE MUSICAL, Theatre Royal Haymarket
★ ★ ★ ★
When it was announced that Trotters Independent Traders' three-wheeled "yellow peril" was heading direct to London's West End in the form of a new musical, a few eyebrows were raised. Only Fools and Horses – The Musical was the brainchild of TV series creator John Sullivan, though it has been realised by his son Jim and comedian Paul Whitehouse.
Taking a song written by John Sullivan and singer Chas Hodges, along with some notes and ideas, Whitehouse and Jim Sullivan have created a 'greatest hits' of sorts; over 40 hours of TV material has been filtered and spliced together to create this new two-hour stage show.
The show uses the "Dates" episode as a loose framework, with Del Boy meeting Raquel through a computer dating agency – each later discovering the other is not quite as they make themselves out to be…
Rodney is about to marry Cassandra and needs to find £2,000 to put towards their new flat, and he starts to wonder if he's really good enough for her; Boycie and Marlene, meanwhile, are continuing their fertility treatment in the hope of starting a family, Grandad's "Farmer Giles" are playing up, and Trigger's just been given a medal by the council.
If the only thing you want out of a trip to the theatre is a deep and meaningful experience, then this show probably won't be your cup of tea – it's unashamedly driven by a need to entertain and a real sense of nostalgia. You know you're onto a winner with most of the material, as it's been tried and tested on our TV screens for nearly 40 years; never underestimate the thrill of seeing and hearing some of your favourite gags live on stage – some jokes just don't get old.
This is a show that is unlikely to appeal to musical theatre purists; it's all incredibly tongue-in-cheek, including a good helping of musical theatre pastiche. The Chas & Dave influence and music hall style numbers help it to translate surprisingly well into musical form – and if Lionel Bart can transform the dark & political Oliver Twist into a jolly, knees-up musical, then why can't the Trotters have their moment on a West End stage?
The songs aren't instant classics – Trigger's "Gaze Into My Ball" (where he has a vision of gentrified Peckham) is maybe a step too far in the weird direction – but the TV show's theme song, "Hooky Street", and Chas & Dave's "Margate" go down very well.
There is a certain irony about the ticket prices, given the financial straits in which the Trotters usually find themselves, however there are some good deals to be had as the slightly cheaper seats do seem to offer reasonable views.
Liz Ascroft's incredible set design boasts multiple revolves, allowing for seamless changes of scenery: from being in the Nag's Head, you can find yourself in the Trotters' Nelson Mandela House flat in no time at all. It does have two levels, though most of the action takes place 'downstairs' – so if your view of the top of the set is cut off, you may not be as restricted as you first think.
In terms of bringing these well-loved characters to life, the cast have to tread a fine line between impressions and playing it in a way that's natural for them – on the whole I think they manage to pull this off rather well. Jeff Nicholson has Boycie's famous sneering laugh down to a tee, and Peter Baker puts in a memorable supporting performance as the gormless Trigger.
Ryan Hutton makes an excellent professional debut as Del's dipstick younger brother Rodney, showing his slightly sensitive and insecure nature, as well as demonstrating natural comic timing.
It's crazy to think that Paul Whitehouse initially hadn't considered being part of the cast, as you honestly couldn't imagine anyone more perfect to step into Lennard Pearce's shoes as Grandad. He gives an understated performance that combines aspects of the character that were captured on screen with his own trademark comedy magic, bringing the house down with the slightest word.
At the centre of everything is Tom Bennett as wheeler-dealer Derek Trotter – from the physicality and mannerisms, to Del's attempts to appear "cultivated", he quite simply has it all. Bennett brings the cheeky chappy to the fore and pairs up well with Dianne Pilkington as love interest Raquel, particularly in their song "West End Wendy", where Raquel reveals her acting aspirations. There is a liberal helping of Del's "most favouritest" words and phrases, but Bennett makes it all feel very natural – and delivers the iconic moments with aplomb.
If you're a fan of the original TV series then this show is a guaranteed side-splitter and a great bit of escapism; it remains absolutely true to the spirit of the programme, celebrating London and its people with a musical twist. There's nothing hooky about this new show – so don't be a plonker all your life, and get your hands on a ticket. You know it makes sense.