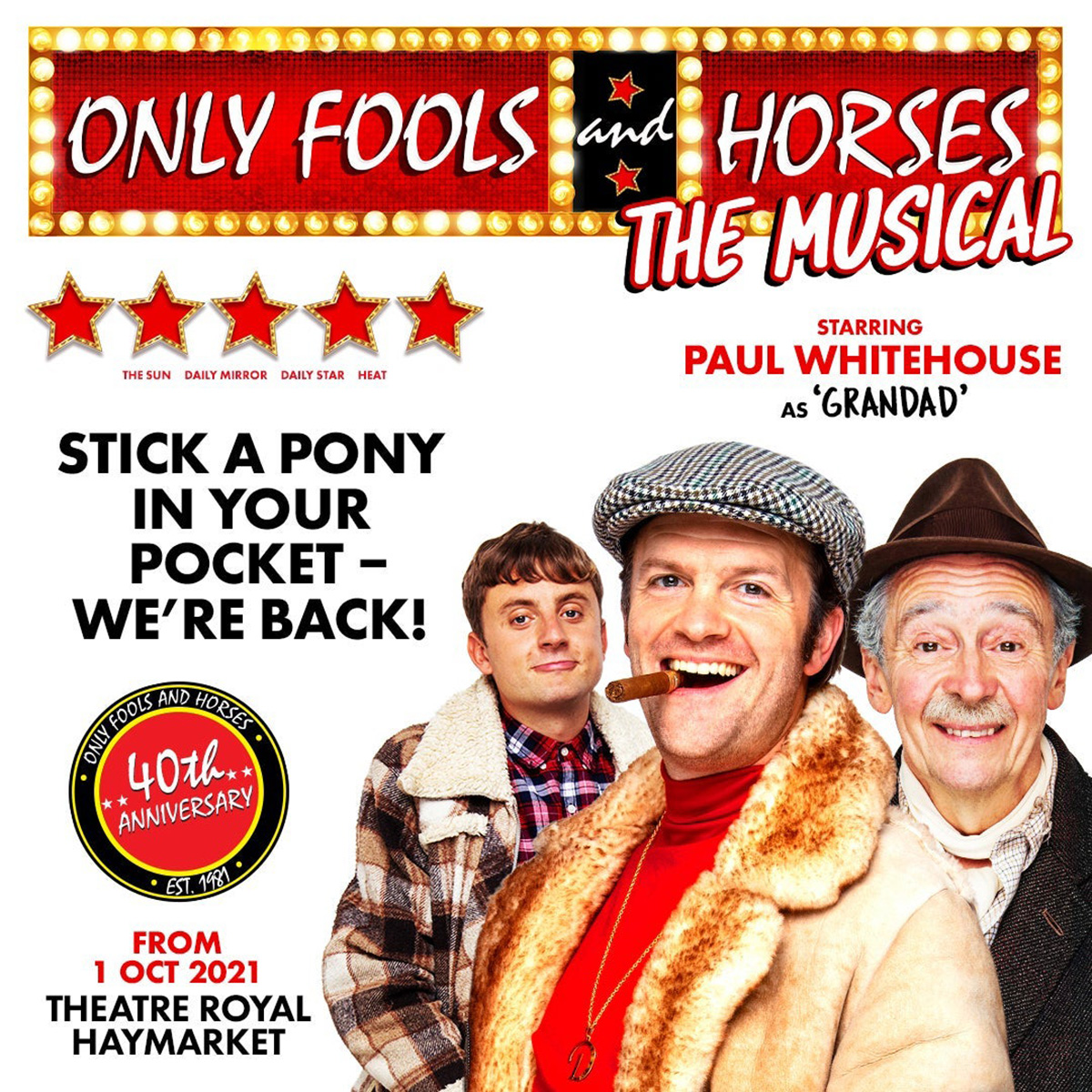 EXPRESS: ONLY FOOLS AND HORSES THE MUSICAL – LOVELY JUBBLY TIME HAD BY ALL
★ ★ ★ ★
The gang's all here. Del Boy, Rodney, Raquel, Boycie, Marlene, Cassandra and Trigger are all present and correct in Paul Whitehouse and Jim Sullivan's musical version of the best Peckham-based sitcom of all time.
The rogues' gallery of sharpies and wide boys is recreated with loving care and attention to detail on a revolving set that shifts the action quickly between The Nag's Head (inside and out), the Trotter residence (complete with bamboo-design wallpaper and homemade cocktail bar) and hospital where Del Boy winds up after an encounter with a "revolving door" operated by the villainous Driscolls.
With songs written by the late Chas Hodges of Chas and Dave and Whitehouse, the hooky is in from the start in an opening sequence that recalls Lionel Bart in his glorious heyday.
p>Pretty soon, the jokes come thick and fast as the story works its way through a distillation of Sullivan's series, centring on Rodney's imminent wedding to Cassandra and Del Boy's attempt to find a love of his own through a dating agency.
Trigger's tragedy, says Tom Bennett's David Jason soundalike Del Boy, is that "his father died two years before he was born."
Ah yes, we remember it well.
Much of the subsequent action is a combination of rapid-fire gags and slightly queasy melancholy as Del Boy stares into a Rodney-less future with only Grandad (Paul Whitehouse) for company and many of the songs in the first half are threaded with a sadness that is both touching and surprising.
But Whitehouse livens things up with a stonking knees-up in the pub that starts with Where Have All the Cockneys Gone? before segueing into My Old Man's A Dustman.
That's more like it.
Oi!
p>There is a really weird sequence in which Trigger foresees south London 25 years in the future in his granny's crystal ball which depicts The Shard in the video screens behind the Nag's Head set but it is the only anomaly in a show that keeps fairly strictly to the series format and characters.
There are some great turns aside from Whitehouse, with Bennett leading the charge as a slippery Del Boy, mangling French vocabulary and aspiring to culture by talking about the "Pristine Chapel."
I loved Dianne Pilkington's Raquel and her solo number The Girl is beautifully affecting.
Jeff Nicholson is Boycie to the life, as is Peter Baker's Trigger.
p>Many of the tunes sound familiar with lifts from Fiddler on the Roof and early Sondheim musicals, plus a fair helping of Music Hall but that is to be expected.
The timing could be tighter in the domestic scenes but that will come as it beds in.
We have to wait until the end for the best sight gag (you know which one!) and the appearance of one of the most beloved characters.
I won't say who it is. But it is worth the wait.