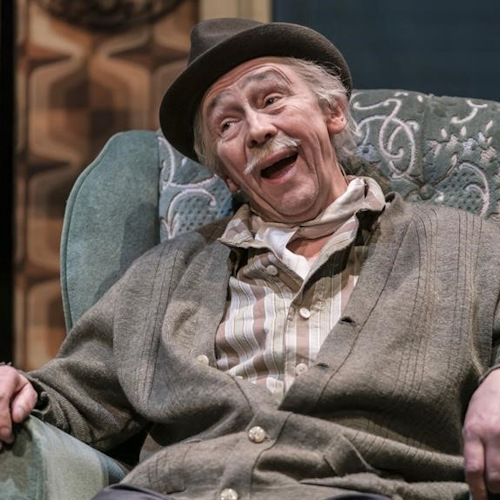 METRO: THEATRE REVIEW
Only Fools and Horses the Musical Is a Big Hit Up West
★ ★ ★ ★
A MUSICAL of Only Fools And Horses? It'll probably run for about as long as Del Boy's Reliant Regal. Because like that jalopy, this show smacks of being the kind of vehicle doomed to backfire on its writers Paul Whitehouse and Jim Sullivan — son of John, the creator of the adored TV series.
Armed with just one song written by his late father and Chas Hodges (who died last year), Sullivan took the idea to Whitehouse who, for all his comedy Baftas had never written a musical, let alone one for the West End.
So as a proposition this show makes about as much sense as the mops that tell the time which Del and Rodney sell down Peckham market. And yet, a bit like Del Boy's made-in-Uzbekistan mobile phone, this show actually works.
Set in 1989, the action mostly lingers in the Trotter's favourite boozer and their council flat.
Tom Bennett is spot-on as Del Boy, with all the bling, blag and charm of David Jason's original. Ryan Hutton matches the whiny resentment of Nicholas Lyndhurst's Rodney and Whitehouse is well within his comfort zone as the self-pitying Grandad. Also present are Cassandra, Boycie, Trigger and scouser Denzil.
Yet what makes Caroline Jay Ranger's production more than just a fix for nostalgia addicts is that it transfers from screen to stage the wit and heart of the original series. True, the plot, cherry-picked from TV, has about as much substance as a Trotter Independent Trading Co guarantee. And with a bare-faced cheek Del Boy would be proud of, Sullivan and Whitehouse nick Bill Withers' Lovely Day and Mick Hucknall's Holding Back The Years to beef up their score.
But their own songs work well, among them Sullivan's funny Bit Of A Sort, sung by Del Boy to describe his ideal woman. Call it comfort food for our troubled times, this show serves up some — yes — lovely jubbly.