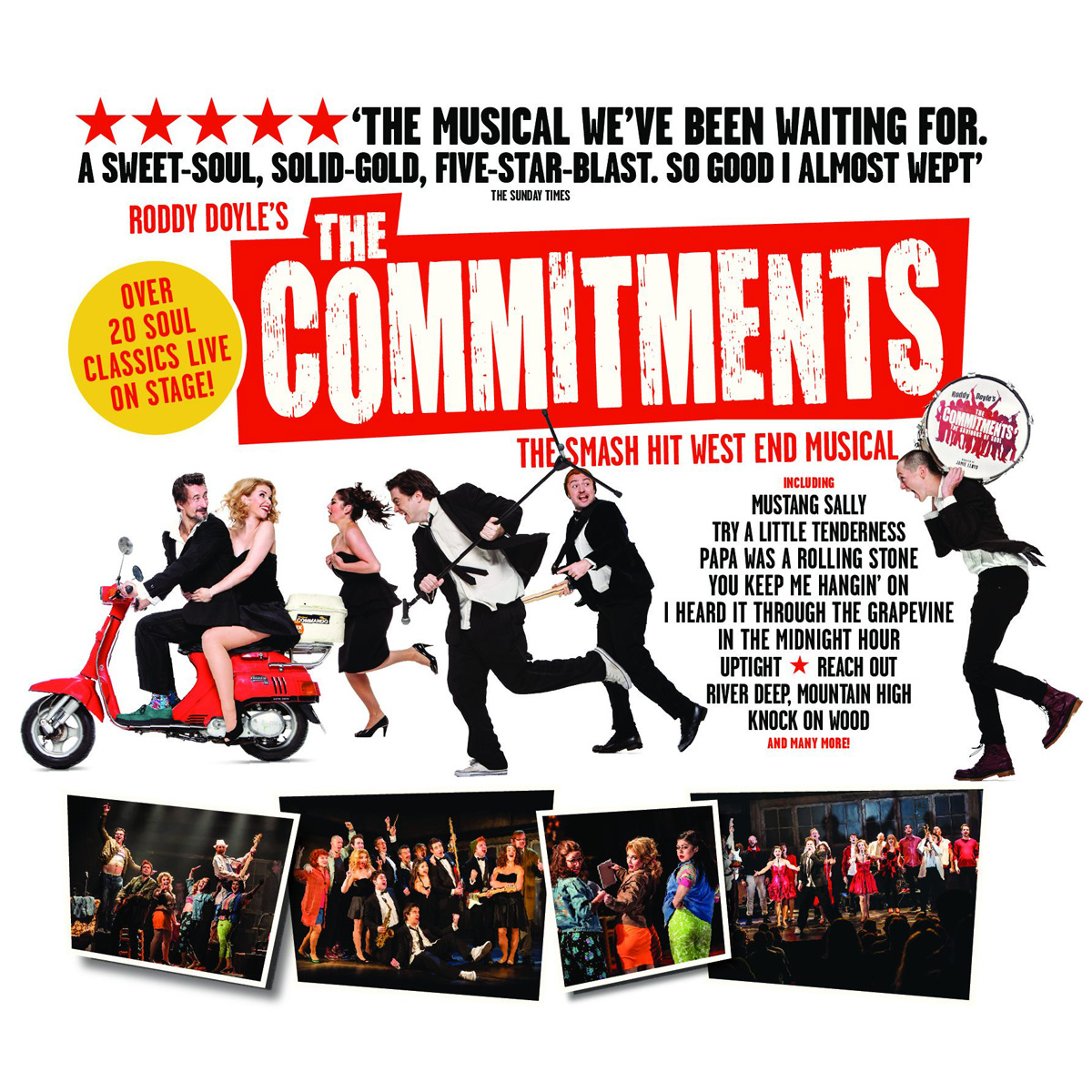 IRISH DAILY MAIL: THEATRE REVIEW
Audrey Kane
★ ★ ★ ★
Spine-Tingling Soul Played in Perfect Pitch
Roddy Doyle's stage version of The Commitments is finally back where it belongs — Dublin. The hardest working musical around received much critical acclaim following its London premiere, and it's easy to see why. If like myself, you're old enough to remember the original film, then you're in for a real treat — and this time around you'll actually get to sing along (out loud) with the familiar soul classics.
The superb set design from Soutra Gilmour perfectly captures 1980s Dublin. With the bleak concrete council estates, rough pubs and rundown community halls, a fitting backdrop is created for the motley group of young musicians from working class Dublin, who are trying to resurrect American soul. Not the easiest goal to achieve, but if anyone can do it, Jimmy Rabbitte certainly can — and so the World's Hardest Working Band is born.
While the first half of the show is more like a play with songs intertwined, the second half is a fullyfledged musical that really gets the place going, with the audience (myself included) up off our seats dancing. This is largely thanks to the musical direction of Alan Berry and the crisp sound design of Rory Madden.
The mostly youthful (and largely unknown) cast is led by Andrew Linnie as Jimmy and Brian Gilligan as obnoxious frontman Deco. Gilligan's superbly powerful and soulful voice, as he tears into classics like I Can't Turn you Loose, Mustang Sally and, perhaps one of the most powerful soul songs of all time, otis Redding's Try a Little Tenderness, steals the show with spine-tingling precision and pitch.
The dialogue is witty and gritty — as you would expect from us Dubliners — remaining faithful to the novel throughout. Some of the supporting cast's attempts at a Dublin accent are commendable, however, it's clear from the get-go which actors don't hail from our fair city, which can take you out of the magical atmosphere of the musical itself. The swear-word count is exceptionally high, so think twice if you were planning on bringing the kids (I saw many upset faces at Billy Elliot as parents didn't think the stage show would have as many expletives as the original film — you've been warned).
Meanwhile director Caroline Jay Ranger (Fawlty Towers Live) runs the show at perfect pace. The action, often taking place in several areas of the stage at once, runs with consistent synchronicity — it's simply impossible not to get swept up in the show's high-energy renditions of soul classics, so make sure bring your dancing shoes.